Interested in bringing a group to the show? Group discounts and add-on experiences are available. Click here to learn more!
Interested in bringing a group to the show? Group discounts and add-on experiences are available. Click here to learn more!
October 21 - November 17 (previews Oct 17 - 20)
The Buena at Pride Arts Center
4147 N. Broadway
Chicago, IL 60613

The importance of storytelling is to bear witness to the events of the past. Invictus Theatre Company's production of The Merchant of Venice is set in 1938 Italy during the Racial Laws where Italian Jews were disenfranchised and discriminated against during the rise of European Fascism. This concept sheds new light on a classic story of revenge, justice, and mercy.
Performances 10/21/19- 11/17/19 Thursday-Saturdays and Mondays at 7:30pm, Sundays at 3pm (No Performance Monday 11/4)
Purchase tickets: merchantofvenice.brownpapertickets.com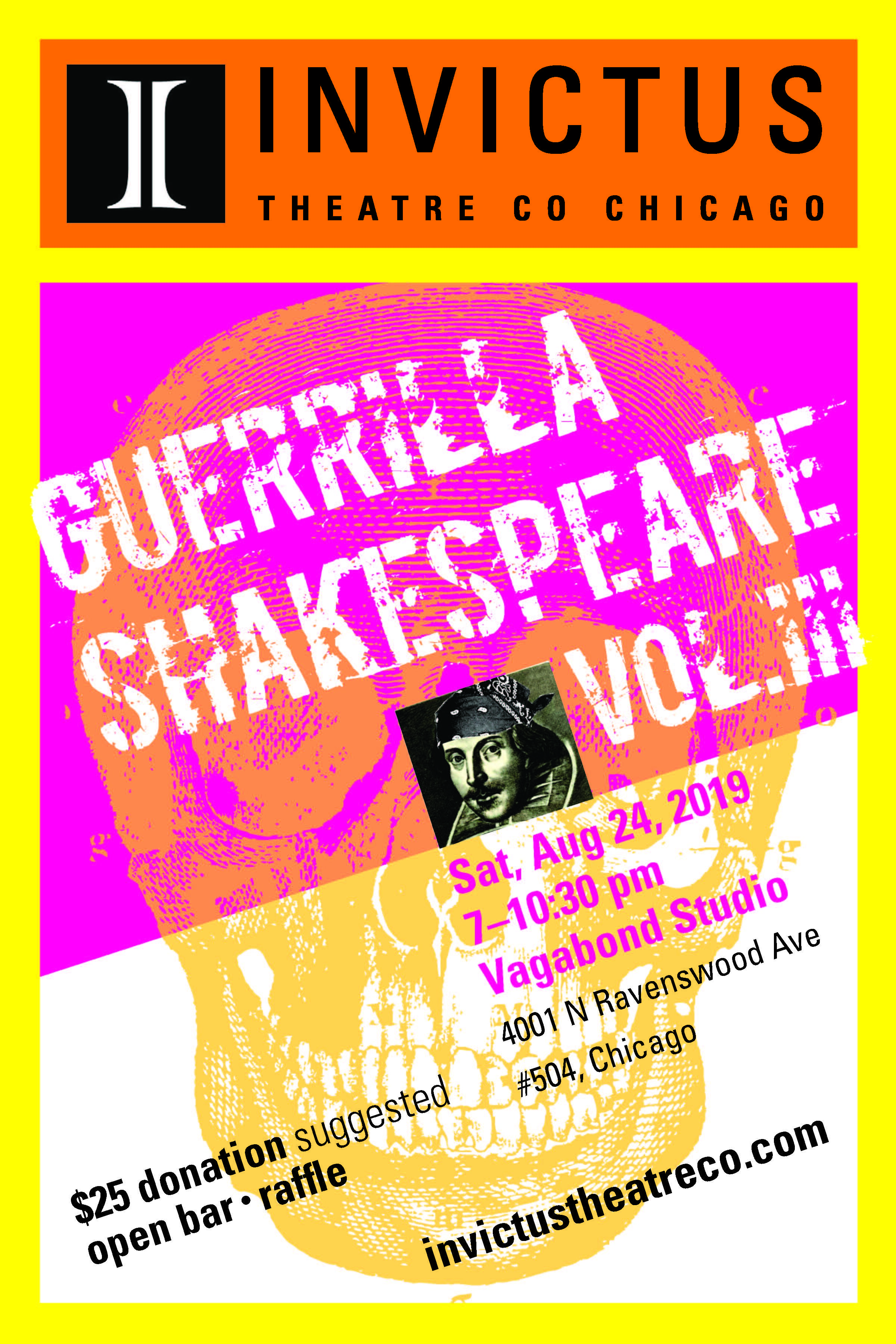 Guerrilla Shakespeare, Vol III
August 24, 2019
7-10:30pm
Vagabond Studio

Guerrilla Shakespeare is a night of impromptu performances, laughs, and celebrating to raise funds for Invictus Theatre Company's 3rd season of performances and community outreach. In addition to 'Shakespeare karaoke', we'll have drinks, raffle prizes, and an awesome silent auction. Meet Invictus Theatre Company members and support our programming at this fun party! Learn more about our upcoming season at https://igg.me/at/InvictusSeason3

Admission is free, with a $25 suggested donation at the door. This event is for guests 21+ years of age.
Shakespeare in the Courts Final Performance
July 31, 2019
3:00pm
1100 S Hamilton, Chicago (Auditorium space)

Invictus Theatre Company proudly presents our second annual culminating performance of our Shakespeare in the Courts program. Our Shakespeare Squad youth ensemble will present The Tempest.

Shakespeare in the Courts is Invictus's outreach program that pairs theatre educators with youth who are involved in the Cook County justice system. The ensemble spends six weeks studying and rehearsing Shakespeare, and our goal is to create an inclusive, positive, and consistent experience. Transportation is provided to and from the rehearsal and performance spaces, and in addition to Invictus educators running the rehearsals, professional designers work with our ensemble to provide performance elements such as costumes and props.
Previously Onstage



Our 2018 Season
February 23 & 24

Want to get in touch with your evil side? Come join Invictus Theatre Co. and friends for an evening of devilish fun with the most dastardly, dangerous, and dumbest Shakespearean villains! See scenes from Richard III, Macbeth, Measure for Measure, Othello, and more! Get your tickets here!
October 24 - November 18
The Frontier Theatre
The King of Navarre and his three friends make a vow to swear off food, fun, sleep, and women in lieu of studying for 3 years. That is until the Princess of France and her three friends come along on a political mission. What ensues is a hilarious battle of the wits where all parties learn about friendship, integrity, and love.
Guerrilla Shakespeare Vol. II
An open bar party where scenes and monologues of Shakespeare spontaneously erupt! Think of it as Shakespeare karaoke, only you don't know when the next track is coming on!
Must be 21+ The event is free with a suggested donation of $20. If you are unable to make a donation we would still love to see you there! All proceeds will go towards production costs for our upcoming production of Love's Labour's Lost.
This is a private party, but we would love to see you! To receive your super special, personal invitation, please email us at:
invictustheatreco@gmail.com
Shakespeare in the Courts Final Performance
Thursday, August 23 at 2:30
1100 S Hamilton, Chicago
Auditorium with refreshments provided
FREE admission
The final performance of Invictus' newest outreach program where juveniles involved in the Cook County justice system perform Romeo and Juliet!
Two Performances: June 2 @ 8pm, and June 3 @ 2pm

Wish you to bathe your lips in rosy dews of kisses? Then come on down to Invictus Theatre Co. Chicago's "When Love Speaks!" An hour of love confessions, adorations, and libations! Featuring saucy love scenes from plays by little-known playwright William Shakespeare. This is a private event so send us an email on our "Contact" page to receive your personal invitation!
Othello: The Moor of Venice
Adapted to contemporary times, Shakespeare's 400-year-old play explores current themes such as race, identity, gender, jealousy, and trust.
The play chronicles the downfall of Othello, a Moorish general of the Venetian armies who is married to Desdemona, the daughter of a powerful senator. When Othello promotes Michael Cassio over Othello's Iago, the jealous and enraged Iago weaves a tale that sets out to destroy both men, indifferent to the massive collateral damage wrought by such vengeance.